Custom Manufacturing
Capabilities
CNC turning and milling, tapping, boring, and threading
Mechanical engineering, welding, and assembly
Finish processing, including bead blasting, tumbling, heat treating, annodizing, passivating, and plating
We work with a wide range of materials, including: aluminum, steels, super alloys, aircraft alloys, bronze, brass, copper, composites, resins, and plastics.
Equipment
CNC Swiss Screw Machine: Star SE 16 (13/16" dia capacity, with front-working, cross-working, and subspindle, 12-ft bar feeder)
CNC Lathe (5" x 15")
Manual Mills (up to 9" x 54")
Manual Lathes (up to 14" x 40")
Quality
Quality work on your schedule, to your specifications
Quick turn-around for prototypes, small runs, and large quantity orders
Careful packing and prompt shipping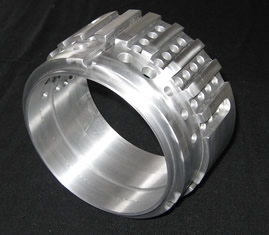 Steelwright Products, 20254 Shockey Lane, Beaverdam, VA 23015 | info@steelwright.com


| HOME | PRIVACY POLICY |
Copyright © 2008-2023. Steelwright Products. All Rights Reserved.